Latest News > Fisadco - Precision Engineering
New image for Fisadco!
12th May 2008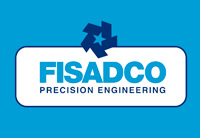 Times are a changing for growing precision engineering and fabrication business Fisadco Engineering Ltd of Raywell Street, Hull!
Steady, planned growth over the last few years - and now with a headcount of more than 30 plus personnel - sees Fisadco ready to take a step forward in the development of the company.
Daren Smith, managing director points out "we have had planned and sustained growth over the last few years along with significant investment in plant, equipment and personnel and are now ready to take quite a major step forward. We have recognised, as a busy company, we didn't want to put additional pressure on our staff and called upon Loughborough, Leicester based consultants M A Rubicon Ltd to ensure our plans are professionally formulated and implemented, without any disruption to the company or the first class service provided to our customers."
It has been identified that the Kanban system introduced in 2006 will be developed still further, bringing more long term customers on board. New customers will be sought to fulfil the hungry production facility.
But before Fisadco goes out and attacks the market, courting new customers, the decision has been made to present a new fresh image to the outside world.
As part of the new image a new logo has been designed and developed by local web & graphic design company 939 Design Ltd. They went on to incorporate the new logo into all stationery and business cards before going on to produce an exciting new website. This will be followed by a corporate brochure that we can send out to prospective customers.
The target date for going live is Monday 12th May 2008
offering solutions to your manufacturing problems!