Latest News > Fisadco - Precision Engineering
Fisadco launches new Green initiative!
25th March 2008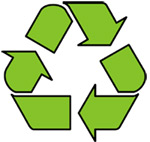 Fisadco, today launched their plans to become a "greener" company.
Managing Director, Daren Smith announced that although they re-cycle already, a new all encompassing initiative will be put into place and will involve everyone at Fisadco's, Raywell Street, Hull manufacturing facility. He says "we already grade all swarf but have set out targets to achieve an initial 10% improvement. Each individual will be responsible to ensure savings are made in all aspects of the business, from buying the correct size of material to ensuring all waste is categorised for re-cycling."
More information soon.
offering solutions to your manufacturing problems!