Latest News > Fisadco - Precision Engineering
XYZ Machine Tools deliver new Manual "plus" CNC lathe
January 31st 2008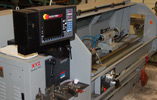 In support of Fisadco production machine shop "a further XYZ manual plus CNC lathe was ordered, delivered and installed - all in record time," reports managing director Daren Smith. "It was ordered a week last Wednesday, delivered yesterday and was commissioned today and tomorrow we will be in production," he added.
The lathe, a model Proturn SLX 425 2 Metre BC is Fisadco's second XYZ purchase in the last 12 months following the installation of a VMC model 1010. The previous machine - their third in 2 years - was another VMC, a model 710 making a total of 7 XYZ machines!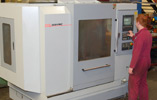 "The operators like the ease of operation and accuracy of the machines and I the competitive cost and reliability and although we have experienced one or two problems, they were soon resolved," says Daren Smith.
offering solutions to your manufacturing problems!